We find solutions
Development partnership
As your development partner, we support you in the realisation of your individual tasks long before series production and develop the optimum processes on the basis of your component samples or prototypes, especially for complex designed workpieces. The involvement of our highly qualified development department already in the design process helps you to avoid costly redesigns or reworking. 
The focus here is on economically adequate as well as high-quality surfaces. With our problem-solving expertise, we develop innovative, efficient processes for your specific tasks. Component geometries, design and coating systems are matched to each other and the processes are adapted according to individual requirements in order to achieve optimum material and surface properties – such as corrosion protection, acid and chemical resistance as well as optical properties.
You develop innovative products, we the innovative surface.
Saving weight and costs with solderable aluminium
Allow lightweight construction through surface technology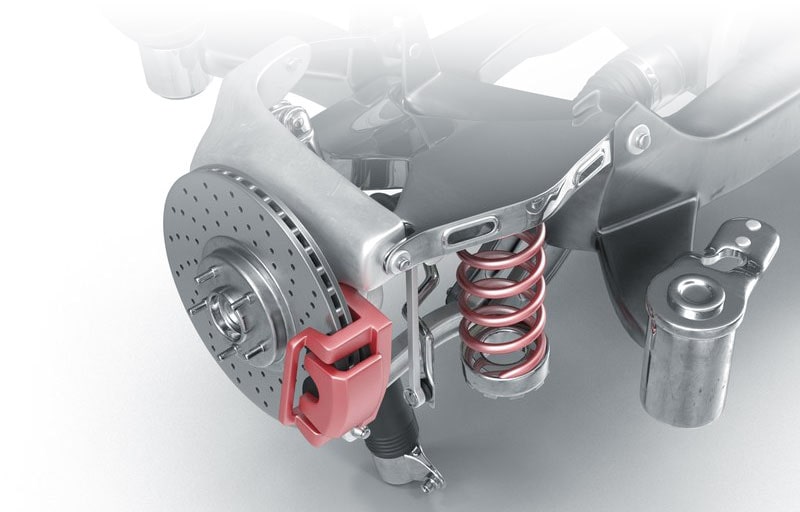 Technical task
A copper sheet in the brake control system of a vehicle serves to dissipate heat from an electronic component. The material copper is now to be replaced by aluminium for reasons of cost and weight. The use of aluminium is only made possible by the electroless nickel coating, which is able to create a material-locking connection between the electronic component and the circuit board in order to guarantee the required heat dissipation capacity and functionality.
To ensure good solderability, Holder as your development partner offers an advanced electroless nickel coating, which is particularly solderable and also allows the use of environmentally friendly solder pastes.
Properties Electroless Nickel:
Solderable and weldable
Plane-parallel deposition
High wear resistance
High hardness
High corrosion resistance
Uniform layer thickness
Good chemical resistance
Diffusion tight
High ductility
Optimum gliding behaviour
Magnetic or non-magnetic (depending on phosphorous content)
Tarnish resistant
Inner coating possible
Appealing optics
Advantages of CHEMICAL nickel coating of aluminium compared to copper
Aluminium is 2/3 lighter compared to copper
Aluminium is significantly cheaper to purchase than copper
Automotive: control and braking systems, electronics, LED driving light systems
Mechanical engineering, machine tools, plant engineering
heatsinks (die-cast heat sinks, punched heat sinks)
Electrical industry, power electronic devices, microelectronics
Medical industry / medical devices
Plant technology
Electronic control devices, housings for control engineering
Aviation and aerospace industry
Tips for metalworking companies
Consider already in the construction process that bubble forming, scaling constructions can hinder the coating process. This also applies to constructions with material doublings, superimposed sheets and gaps.
If fitting dimensions with very narrow tolerances (in the µm range) are required, we recommend that you determine premeasurement tolerances in a preliminary discussion with us. This ensures that your workpieces and components conform to the drawing even after the coating has been applied by taking the additional material application into account.
Since hydrogen embrittlement can occur with quenched and tempered and high-strength steel components, suitable measures should be taken in consultation with us prior to coating. This can prevent hydrogen embrittlement, which could otherwise cause component failure.
If welded structures are to be coated, both the release agents and the oxidation products of the welding process must be matched to the pre-treatment of the coating to the manufacturing process of the components – in this way, problems with coating adhesion can be safely avoided from the outset.
By uniform layer thickness distribution (e.g. through the use of internal anode technology) we guarantee the highest corrosion protection of the components. Please consult us in advance regarding design details so that we can ensure the uniformity of the coating.