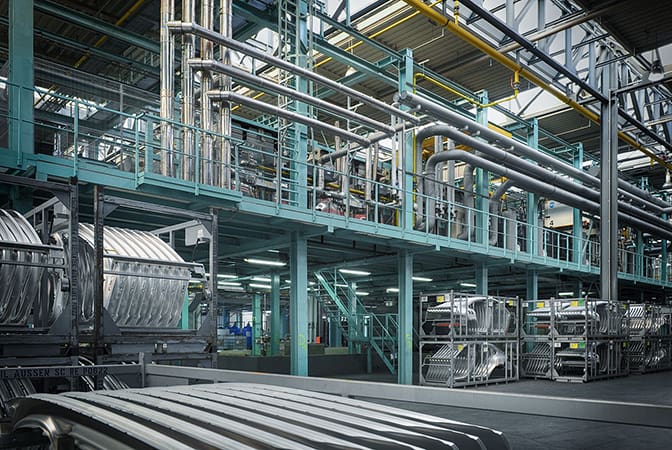 One of the world's largest coating plants for aluminium
Ready for use – new large coating line for aluminium cleaning and passivation
In September 2015, Holder GmbH Oberflächentechnik commissioned one of the world's largest contract coating systems for aluminium.
With the processes Alupass 200 (Gardoclean 299) and Alupass 400 (Alodine 2040 / Bonderite MNT 2040) approx. 25,000 tons of aluminium components can be cleaned or passivated per year. These processes are ideally suited to prepare the components for subsequent processes such as welding, gluing and painting.
In particular, large structural components made of die-cast aluminium such as side members and shock absorber leg mounts of car bodies or body panels made of aluminium such as complete side walls or roofs can be economically coated in high volumes.
Holder is thus consistently expanding its activities in the field of lightweight construction and supplementing its existing range of machining options for aluminium such as cleaning, passivating, anodising and hard anodising.
The following specifications are met with the new coating line (non-exhaustive list)::
VW / Audi TL 82427,TL 82428, TL 82433 F
BMW PV 97022
Daimler DBL 4952.10, DBL 4952.11
Porsche PTL 7556, PTL 7555